At last I can find some spare time in order to post a news or two on my blog. I came back from Berlin to find my mailbox stuffed with piles of assignments and propositions for covers. And I only can breathe a little now. First I want to share a couple of Conan fanarts I did while reading Robert E. Howard. I've always been a Conan afficionado ;) and the first movie is on my all times top 5.
that one is not Conan related, it's a cover I just finished for Bragelonne, that has a nice Conan vibe though:
Before Berlin I was in Angoulême for the festival. I did a LOT of doodles for the people who bought Merlin there. Merci les amis !
I had also the opportunity to meet a very talented chinese artist named Ma Yi
.
I can only recommend that you buy Ma Yi's artbook @ Editions Drakosia and his BD Yuna @ Soleil.
There he is on the photo with my good friend Thim Montaigne
.


After Angoulême I went straight to Berlin for the opening of mein bruder Marko Djurdjevic galllery SIXMOREVODKA. And I really had a blast there. Now, that was the place to be for the beginning of 2010. The place was crowded with talented Marvel artists and videogame concept artists. I've never seen so many huge talents in one (not so) tiny place.

Merlin was in good place between Marko's artbook and the Massive Black one:




a quote on the wall.



Anne Pogoda was there with her students from the Berliner academy of art. Great people.



C.B. Cebulski and Nic Klein were also there. Do I need to introduce these talented guys ?!



great concept artist Kan Muftic was also in da place. A real nice dude I need to see more.



My hero Esad Ribic was also there.



Modern Talking ! (Giuseppe Camuncoli and Marko D.)



read Viking, the raw comic by Nic Klein.



and last but not least, the Massive Black crue.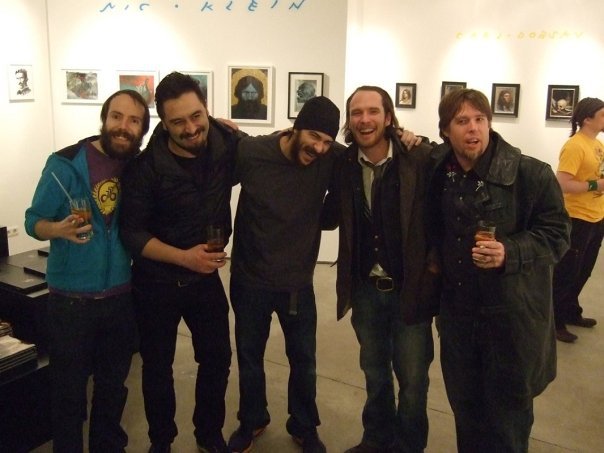 and this is all ;)
... well, actually no ! I forgot to mention that I was just chosen by the people at Café Salé for the back cover of their Artbook #4 ! I'm so proud !!The picture is taken from my Merlin book.The beautiful front cover is a collab by Clément Lefèvre and Gate:



ok, now this is really all ! Cheers !!